Plush Studios & Medical Aesthetics is "Inspired" with certified organic Farm House Fresh
Experience breathtaking body treatments at Plush Studios & Medical Aesthetics in Billings, MT. Using Farm House Fresh, you'll find body care products grown and crafted with delicious epicurean flair, that are either certified organic or use up to 100% naturally derived ingredients - all chock full of fruits, vegetables, milks, and more from U.S. farms. We are proudly made in the U.S.A. We put just as much love and care into our products as we do in cultivating what goes into them. Call us at 406-969-2018 to learn more.
We pursue three passions:

GROW FRESH. Whether grown on our farm or other local U.S. farms, ingredients are harvested, washed, and extracted within hours to ensure vitamins are at their peak. And we ensure zero waste - feeding the chickens our pulpy leftover rinds!

​SPA DELICIOUSLY. Our Farm-to-Table Treatments are as delicious as they are authentically crafted with organic fruits, vegetables & herbs, and small batch liquors from across the U.S.

​RESCUE. The FHF Ranch is also a sanctuary for animal rescues. Following our creed - Life is Short. Save Something Furry.® - we use your purchases to help us care for forgotten, neglected, and abused farm animals at our FHF Ranch and Sanctuary. We also fund, transport and actively support other rescues.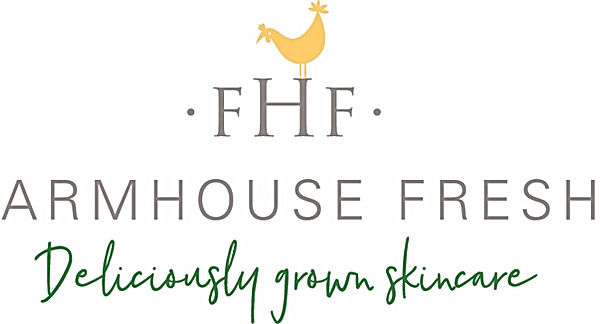 The percentage of ingredients that are natural, or naturally derived. Each product ranges from 93-100% natural. This number is an estimate, based on raw materials in each product. In cases where we are not able to confirm whether a synthetic process was used in the production of a particular ingredient, we have erred on the side of caution, and that particular ingredient is not included in the natural percentage.

Paraben & Sulfate-free. We choose not to use parabens and sulfates. Sulfates can dry out skin and cause extra irritations for people with eczema. Parabens have been debated for quite some time. Although dermatologists generally prefer to use them (particularly to keep mold from growing in facial products that can come into contact with your eyes), and many dermatologists cite sound studies showing parabens are safe to use, there are plenty of alternative preservatives that are effective and that meet the demand from our customers to avoid using parabens.

Vegan or Gluten-Free & Cruelty Free. 99% of our products are vegan or gluten-free. We are strict in our use of the term vegan. Even if a bee naturally makes honey, and honey is in the product, that product is not considered vegan.

Most of our products now have a Cruelty Free logo on packaging. We LOOOOOVE animals and recently received our PETA Cruelty Free certificate. We never test on animals - we are rescuers of them - dogs, bunnies, horses, turtles, donkeys, and goats that reside at our FHF Ranch.

ESSENTIAL OILS, PLANT EXTRACTS, & FRAGRANCE:
All our products are Phthalate-FREE, whether they use essential oils, plant extracts or include blends of synthetic notes. We capture deliciousness - from fresh baked whoopie pies to crisp cilantro and lime. We hope our products make you swoon from the first crack of the jar.