NEW BODY WRAPS
Plush Studios & Medical Aesthetics, Billings, Mt
CLEANSE, DETOXIFY AND NOURISH

Body treatments are designed not only to encourage rejuvenation and longevity but to cleanse, detoxify and nourish the skin. Our wide selection of treatments will meet your most specific needs. Savor the experience. And bring along your family and friends to share.

All Body Treatments include a holistic seal salt foot soak. Check out exclusive add-on menus in a our treatment rooms. Come early and sit in our infrared sauna in our spa in Billings, MT to intensify your body experience.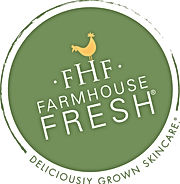 An irresistibly softening organic whipped shea butter and sugar exfoliator buffs skin to smooth, supple perfection as the scent of fresh coconut, lemon and bergamot fills the air. Once skin is polished, a hydrating massage with an organic coconut oil and shea butter cream - scented with white coconut and pineapple - completes this blissful experience. You'll be ready to face the world - feeling and smelling like you've journeyed to a tropical paradise. 50 min
Rescue Me Cactus Treatment
Start by smoothing the skin with the finest grained sea salt scrub. Next a stimulating prickly pear cactus toning gel warms the skin, increases circulation, improving elasticity while helping firm the skins surface. Extracts of ginger root and paprika give the skin a healthy glow. We end the treatment with an application of vitamin rich agave nectar oil to hydrate the skin. 50 min
FarmHouse Fresh is proudly voted by spas, hotels and resorts as their Favorite Body Care Line, selected through American Spa Magazine's Professional's Choice Awards. Our Organics Collection received Day Spa Magazine's Professional's Choice Award for Favorite Organic Collection. We offer the most distinctive selection of Farm to Spa Treatments, with a warm team of estheticians, massage therapists, and international trainers who bring an ever-changing fresh menu to the thousands of spas we serve.
5 Herbs & Honey Milk Wrap
Reinvigorate your soul and your skin with this succulent wrap & massage. A steaming Lavender & Hibiscus mineral towel compress, infused with organic teas and flower petals, wraps around you once painted with a raw honey and live papaya fruit cell glaze. New life is breathed into skin once scrubbed with a refreshing sea salt and rice bran oil blend! A finale massage incorporating Buttermilk Lavender Steeped Milk lotion and a drop of crisp Citrus Cilantro Oil, awakens and moisturizes skin.
Sugar Berry Wine Down Body Treatment
This delectable berry-wine treatment is full of vitamin delight! It begins with a nectar whole milk wrap to calm and soothe winter skin, as you're nestled in warm relaxation. Rasmopolitan sea salt scrub, with organic vodka and fresh raspberry extract, clears away rough spots. Next, you're painted with a super antioxidant resveratrol serum blend made from Texas winery grapes - a cocktail of a bioactive fruit compound to help reduce the look of pores blended with organic chamomile flower extract to soothe skin. - this is one cocktail that won't leave you with dancing regrets! End with a Whoopie white velvet buttercream scented shea massage, you'll be vitamin and hydration-full for weeks!
First, we will reveal your smooth skin with a whipped honey sea salt scrub. Next, purify and detoxify with a peat mud masque that will remove impurities and balance the skin. Last, you'll receive an application of emollient oil infused lotion with ginger and grapefruit to impart essential vitamins to your skin

90 min
You're cocooned into a rosemary and mint oil wrap designed with antipruritic properties ready to soothe dry and itchy skin while easing muscle tension. Once relaxed, a fine grain sea salt scrub with raw honey and lavender erases away all rough and dead spots. Finally, a rhythmic vitamin massage with healing agave oil and smooth river rocks are the finishing touches to your treatment

60 Min